What is an IOL?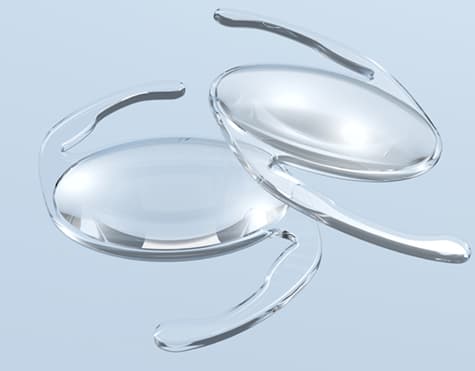 IOL stands for Intraocular Lens. It is an artificial lens that replaces the lens during cataract surgery. When you have cataract surgery, the only way to get rid of the cataract in your lens is to remove the lens itself.
In the past, this left patients without a lens in their eye, meaning they would have to wear very thick glasses to see. With modern technology, not only can the lens be easily replaced, but your vision can be corrected.
Some people opt for refractive lens exchange surgery long before they have cataracts. This is often as an alternative to LASIK or other vision-correcting procedures.
Thanks to advanced IOLs, you can have better vision after cataract surgery. Many patients claim that they have better vision than ever before. This is because of their choice to have an advanced IOL.
What Makes Advanced Technology IOLs Different?
When you have cataract surgery, the "default" option for your IOL is a monofocal IOL. This is a simple lens that has a uniform refractive power over the whole lens.
Often when people get cataract surgery, they replace one eye's lens with a monofocal IOL. One eye is set to near vision and the other eye is set to far vision.
This is called monovision, and it mostly allows the patient to see as well at moderate distances. But seeing up close in focus can be difficult. Most people with monovision have to use reading glasses for tasks that need close focus.
Advanced Technology IOLs accommodate a range of vision. This is so you can see clearly at different distances.
They can even reduce the need for glasses altogether. There are a variety of options available for these premium lenses. It's up to you to discuss these options with your doctor to find the lens that works best for you.
What Kinds of Advanced Technology Implants are Available?
There are many kinds of Advanced IOLs. At Huffman & Huffman P.S.C., we offer three that we find cover an array of needs. They also offer the latest and best technology available.
ReSTOR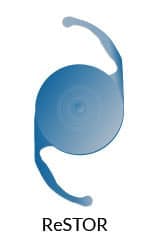 The AcrySoft IQ ReStor Lens is a multifocal IOL. Multifocal IOLs are made with rings spreading outward from the center of the lens.
Each of these rings alternates in refractive power. This lens trains your brain to look through sections of the lens when you're looking at objects closely.
It then trains your brain to look through different sections of the lens when looking at a distance. The result is sharp distance vision and sharp near vision.
This eliminates the need for reading glasses. The ReStor is a perfect option for those who enjoy a variety of activities.
If you enjoy golfing, cooking, playing cards, and other activities, ReStor may be for you. The ReStor allows you to take part in all these activities, without ever needing to wear any kind of glasses.
Tecnis Symfony
The Tecnis Symfony IOL is an extended range of vision IOL. This is the latest kind of IOL technology that works by elongating your range of focus.
This works instead of splitting the lens to focus on set focal points. The result is vision with a great depth of field that allows you to see at all distances within that field.
This kind of IOL also can reduce the need for glasses. Many patients with Tecnis Symfony IOL take part in indoor and outdoor activities.
Toric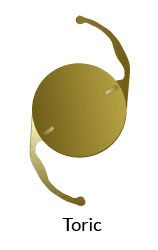 A toric IOL is made to correct astigmatism. This is the only IOL that's made for correcting astigmatism.
It works by counter-balancing the asymmetric shape of the eye with different sections. These are then set to different refractive powers.
The toric IOL is like a multifocal lens with custom refractive power and placement made for your eye. This IOL is perfect for you if you want to fix your cataracts and astigmatism at the same time.
---
Looking to discuss your IOL and advanced technology implant options before cataract surgery? Schedule a cataract screening at Huffman & Huffman, P.S.C.